French countryside • interior • gardening • tree house • animals • fashion • chimney • pattern • french dating • vacation • Photo gallery • royalty free pictures
Elderberry wine is a surprisingly flavorful drink that recalls springtime, the outdoors and lovely walks in the countryside.
In temperate countries (France, Great Britain, Scandinavia, Eastern Europe, North America), this wine is made in May.
Be warned: Elderberry wine is made with black elderberry flowers, sambucus nigra. There exists however a false elderberry, a plant with a similar flower, but which is not a deciduous shrub. Do not mistake them.
Making Elderberry wine
- Select 6 full flowers per liter of wine. They should not be wilted but wide open, fresh and void of insects.
- It is better to pick them early in the morning.
- Let the flowers macerate in wine in an airtight container for 48 hours.
- Occasionally press the flowers to the bottom of the container to allow the juice to mix homogenously with the flowers.
- Maceration should take place in a cool spot (cellar).
- After 48 hours, press the flowers for added essence as you remove them from the wine.
- Filter the substance 3 times through cheesecloth.
- Mix the filtered wine with sugar (according to taste) and fruit alcohol.
- Bottle the wine and seal it with wax.
- The sugar transforms into alcohol in the bottle.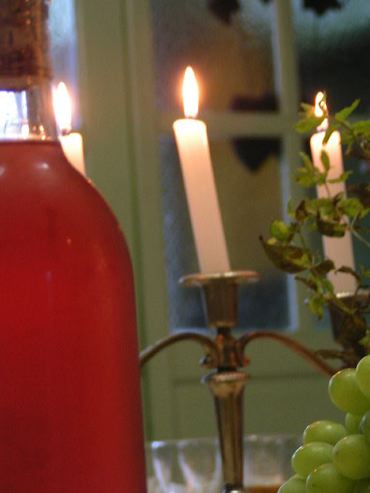 - The wine can be drunk after a few weeks. The taste will evolve from month to month.
- It is best to drink the wine within the year although it may last longer if kept in cool conditions.
- Occasionally the wine will become effervescent. This is due to the fermentation of the residue and cannot be countered. There is always a certain amount of residue (pollen) that remains in spite of filtering. It actually enhances the taste of the wine. In fact it should be stirred before the wine is served chilled.
- If white wine is used, it will have a murky aspect due to the residue. For this reason it is preferable to use rosé wine. I personally prefer rosé to red as it enhances rather than inhibits the particular character of elderberries.